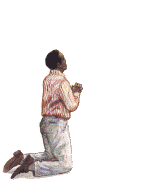 People pray in different ways.
I saw Korean missionaries in our country formed a circle along the road, bow their heads and pray.
I saw catholic families & born again christian inside a restaurant & food court say a prayer before a meal.
I even saw a mass gatherings performed inside the mall & supermarkets.
But what is really the commandment of Jesus Christ about praying?
Matthew 6:6 But thou, when thou prayest, enter into thy closet, and when thou hast shut thy door, pray to thy Father which is in secret; and thy Father which seeth in secret shall reward thee openly.
In a literal sense, it is understood that closet and door are inside or part of a house.
Spiritual meaning according to bible scholars explained that the closet is your eyes and the door is your ear.
But how you do it in secret is another thing.
My friend said, I can say a prayer in public with my eyes closed & my ear not entertaining a noise without anyone noticing it. I said FINE, you're a genius.
Matthew 6:5 And when thou prayest, thou shalt not be as the hypocrites are: for they love to pray standing in the synagogues and in the corners of the streets, that they may be seen of men. Verily I say unto you, They have their reward.
Traveling from office to home, while inside a public transport jeep, I saw an old lady with her eyes closed holding a rosary. I noticed that her finger is transferring from one bead to the other beads of the rosary. Is she praying in secret? The fact that I saw her gives the impression that she is not praying in secret.
She called the driver to stop, but it's a no loading & unloading zone. The driver stops at the designated unloading zone. The old lady alighted but murmuring. What she says? I don't want to elaborate. It reminds me of a local song "Banal na Aso, Santong Kabayo". In English translation "holy dog, saint horse".
But Brother Ely, how about the giving of alms to street children? Can you do it in secret?
Matthew 6:2 Therefore when thou doest thine alms, do not sound a trumpet before thee, as the hypocrites do in the synagogues and in the streets, that they may have glory of men. Verily I say unto you, They have their reward.
I am also giving alms to street children. I am thankful if God reward me for doing that although it is a very small amount. But when you send him to School, pay for his hospitalization or give a house to dwell, will you have to broadcast that in public?
My friend said, of course not. But politicians did!
Matthew 6:1 Take heed that ye do not your alms before men, to be seen of them: otherwise ye have no reward of your Father which is in heaven.